Sale
Line Blade Skis 2021
$449.99
Brand Line
LEAVE DEEP CUT TRENCHES IN YOUR WAKE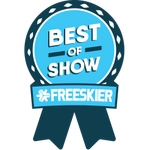 Created to carve, cut, slash, and burn, the award-winning LINE Blade will reignite the euphoria of the turn, leave only deep cut trenches in its wake, and a sh*t eating grin on your face. Featuring a versatile 95mm waist width, a massive shovel, and Gas Pedal Metal technology, the Blade is an aggressive and agile all-mountain charger that will allow you to carve, slash, drift, and power through turns like never before. 
The LINE Blade is our take on a metal laminate freeride ski. It's no secret that our roots go deep into the freestyle skiing scene, and those roots will never change, but you can't ski park forever. One day, you might wake up and realize you want a ski that can make the entire mountain your playground, a ski that allows you to rip down normal groomers as you've never done before. Instead of bending your blends all day long, you want to turn and burn your way around the mountain or slash and slarve through the fresh snow that fell overnight. That's where the Blade comes into play.
It's not your typical boring metal laminate freeride ski. It's designed with a LINE flair, and you know we always keep skiing #Morefunner.
Due to the unique shape and longer effective edge, the Blade skis about 5cm longer than the numbers read. When choosing your size, we recommend sizing down from what you would typically ski.